On March 16, 2014, I completed a Grand Canyon Solo Double Crossing Ultra Endurance Run: Rim to Rim to Rim (R3). ITB issues slowed me down considerably on the way up, but I was able to finish in 11h34min.
The following movie was all filmed by myself with a GoPro. Music: (c) Nils Petter Molvaer & The Levellers.
Trails and Distances:
South Kaibab Trail: The trail begins on the South Rim near Yaki Point, and descends to the Colorado River. Elevation change from rim to river is 4860 ft (1480 m), along a 6.3 mile (10.1 km) trail. Because of the unavailability of water and steepness of the South Kaibab Trail, rangers recommend hiking down this trail only – and recommend using the Bright Angel Trail for the hike out.
River Trail: The trail has little elevation variation and follows the Colorado River for 1.7 miles (2.7 km) between the Bright Angel and South Kaibab trails. Two foot bridges permit access to the north side of the Colorado River.
Bright Angel Trail: The trail begins on the South Rim just west of Kolb Studio, and descends to the Colorado River. Elevation change from rim to river is 4460 ft (1360 m), along a 7.8 mile (12.6 km) trail. This trail passes through Indian Garden.
North Kaibab Trail: The trail begins on the North Rim at the head of Roaring Springs Canyon and descends to the Colorado River. Elevation from rim to river is 5850 ft (1780 m), along a 14.2 mi (22.9 km) trail.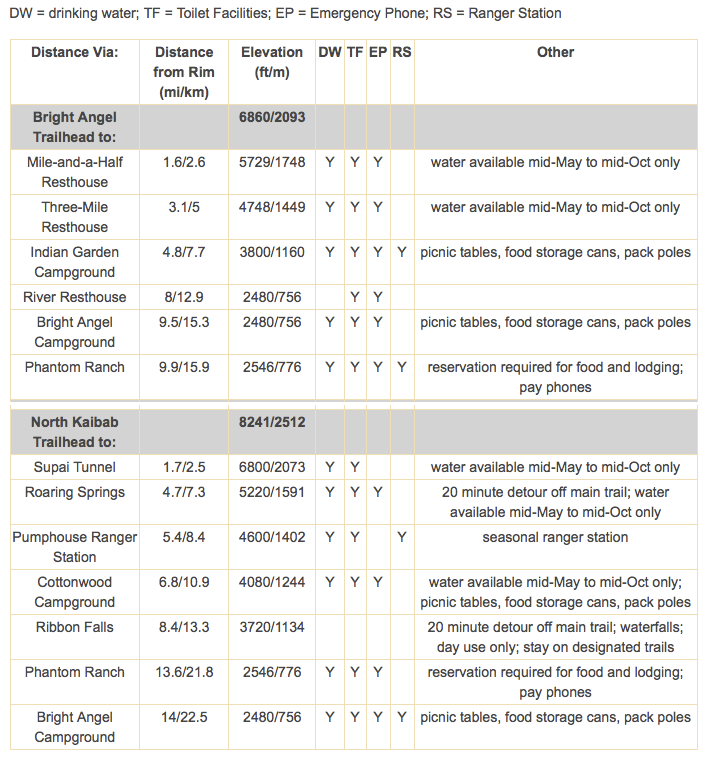 Pace table:
https://docs.google.com/spreadsheet/ccc?key=0AgQngr_qjujTdHJaeWRMS1dBX1lSZ1Y1Vk1DUWJUa0E&usp=drive_web#gid=0 (can be downloaded as an Excel or OpenOffice spreadsheet)

Actual times: http://www.strava.com/activities/121645702
Timeline:
Sat, Mar 15, 2014
5:20am: US Airways flight 554 from Portland to Flagstaff (via Phoenix)
9:39am: Arrival in Flagstaff. Picked up rental car and drove to rim.
12:00pm: Arrival at South Rim. I stayed in the Yavapai Lodge because it was the only availability: http://www.grandcanyonlodges.com/yavapai-lodge-413.html
Sun, Mar 16, 2014
3:00am: Alarm. Checked out and drove to Bright Angel trail head.
4:00am: Started to run down the Bright Angel trail.
3:30pm: Arrived back at South Kaibab trail head. Rode the shuttle back to the Bright Angel trail head, then drove back to Flagstaff.
6:00pm: Arrived at airport
9:15pm: US Airways flight departed Flagstaff for Portland (via Phoenix)
1:28am: Landed in Portland
Fuel:
2,800 calories of Tailwind
14 gels
A few candied ginger slices
A few chocolate-covered coffee beans
Gear:
Buff
Headlamp
Gloves
Compression sleeves
Salomon exo compression shorts
Salomon exo shirt
Wind breaker
Arm warmers
Two 21oz bottles
Two 17oz bottles
Two 7oz bottles with pre-mixed Tailwind syrup
Salomon S-Lab ultra vest
Brooks Cascadia 7 shoes
Black Diamond Z-Poles
Water treatment tablets
First aid kit
Lessons learned and other stuff:
In general, I felt I carried too much water. There was water pretty much everywhere, except on the North Rim. If you are used to treat your water from streams, there are even more opportunities. I would plan my refill strategy a bit more wisely to minimize the pack weight. On the other hand, it's better to be on the safe side.
Poles worked great for me.
I didn't wear gaiters and was fine. The dust gets in your shoes no matter what.
I didn't stash any food or drinks.
I only saw one person on the North side, but the North Rim was still closed in March.
My initial plan was to go back up the Bright Angel trail, but I decided to take the shorter South Kaibab route after experiencing serious ITB issues at the bottom of the canyon.
There are many steps. Make sure you don't always take them with the same leg. I believe that was the main reason for my ITB issues.
I did not need microspikes. The rangers said the North Rim was pretty much snow free, so I didn't carry them with me.
Resources: