On Fri, Nov 7, 2014, I set out for an unsupported attempt of the Joshua Tree traverse. I thought this was going to be a rather easy "37.3mi walk in the desert." I was quite wrong. While neither the distance nor the trails seemed scary, the lack of water was as an element that made me nervous. Yet, it turned out the real difficulty was not something I had planned and trained for.
Ursina dropped me off at the Black Rock Campground shortly before 7pm. It was pitch black dark by then. Conditions were supposed to be ideal: mid 50ies, clear skies, light winds, and practically full moon. Even though I was racing the Silver Falls 50km ultra the weekend before, I had tapered reasonable well and felt pretty strong.
The air felt cold, so I put on arm warmers, gloves, and packed an additional thin layer just in case. Then I turned on the SPOT, the GPS, the headlamp, and embraced the fear.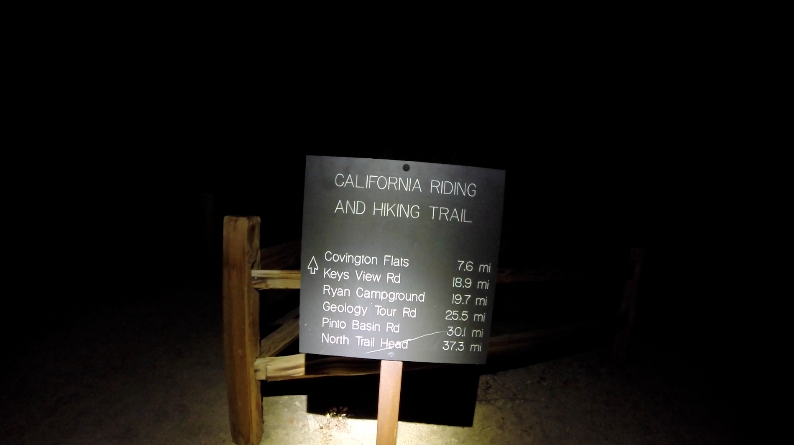 Only 37.3mi to go…
I knew that the first 5 miles would be uphill and I had mentally prepared for that. But I had neither planned nor trained for soft sand, which was what I encountered from the very beginning on. I should have read this trip report better: "Think running in loose sand uphill in the dark for a couple hours to start your day. We had to remind ourselves to take it mellow and save our energy for later in the day."
The first 5 miles sucked up a lot of my energy. Needless to say that the fully-loaded pack didn't help to make this stretch easier. The climb wasn't steep by any means, so hiking was not an option. After a while, I simply had to accept that going slower was a must if I wanted to be able to complete this challenge successfully in a reasonable amount of time.
As always, it takes a while to feel "at home" on a trail. Especially at night, you first focus your attention on non-essential things that distract your vision. Dead Joshua trees were one of these things.  They kinda look scary at night if they are all crumbled up on the ground.  Cacti is another thing you get reminded the hard way to watch out for. But once you get into the zone, you can generally focus on executing your mission in a much more fluid and automatic way.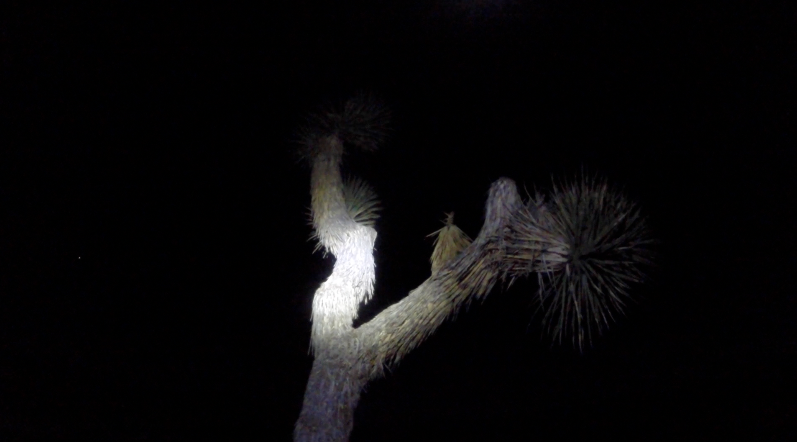 A typical view of what I saw of the park at night.
Navigation wasn't difficult at all until the very end. You had to pay attention, but there were signs everywhere. I always make sure that I know where I am. It's worth stopping for a minute to check the map. I carried color copies of the Joshua Tree National Geographic map and that served me well. The trail also has mile markers. I profoundly hated these because you always think you are further than you are, but then get reminded that you only just did another meager mile. After a few miles, I made a conscious effort not to read them anymore.
Throughout the run, I had trouble regulating my body temperature. I was either too hot or freezing. The temperature would sometimes change within a few hundred feet dramatically. Sometimes there was a rather strong and hot wind, sometimes there was no wind at all but the air felt like in a fridge. Each time I decided to either put on or remove the arm warmers I regretted it in the next few minutes. The Ambit2 log below shows that the temperature varied between about 50F and 74F.

Once I got over the first climb, the trail became more technical in parts. At Juniper Flats (mile 20) I checked the pace table (see below) and realized that I had made reasonably good time despite the soft sand. The trail had gotten more packed and my pack was getting lighter too. As planned, I had consumed about half of my water supplies by then. I got more comfortable, knowing that I wasn't completely off with my predictions.
At mile 30 I did some math and guesstimated that I could finish under 7 hours. Sadly, at mile 35.5 or so I lost the trail an ended up in a labyrinth of washes. The map did not help. I back-tracked and tried to find the trail where it ended, but was not successful.  That cost me precious time. I was very glad I had the route saved on the Ambit2. After turning on the navigation mode, I followed the GPS track and was able to make decent progress. I found the trail again, but less than half-a-mile before the finish only. By then it was past 7 hours.
I finally saw the light of a headlamp and soon Ursina, who had followed my SPOT and had arrived at the North Entrance trailhead right on time. I finished the run exhausted in 7:12:50, 37min faster then the current OKT/FKT, which was self-supported, not unsupported.
We drove back to Desert Hot Springs and were in bed shortly after 3am.
I did not see a single person during my entire run. Only a few coyotes accompanied me for some time. They stayed friendly and so did I. The water supplies worked out perfectly. I had a few sips left only. As always, I carried too many calories.
In summary: this was a great adventure that turned out to be more challenging than anticipated. I was hoping to finish in 6h or less, yet, the soft sand foiled this plan.
Some data and links:
Gear list:
Salomon ultra vest
Brooks PureGrit 3 trail shoes
Emergency/first aid kit
Lip balm
Emergency blanket
Salomon compression shorts
Salomon compression shirt
Long-sleeved 2nd layer
Patagonia wind-breaker
Gloves
Arm-warmers
Buff
GoPro
SPOT transponder (no extra batteries)
Petzl Myo-RXP headlamp with extra sets of 3 AA batteries
Petzl E+LITE emergency headlamp
Suunto Ambit2
Map
Estimated pack weight: 6.5 – 7 lbs (with water and food)
Water and fuel that I carried:
2.25l/76oz of water
400cal of Tailwind
11 gels (9 consumed) = 990cal
1 PowerBar Wafer (not consumed)
4 Honey Stinger Waffles (1 consumed) = 170cal
2 fig bars (1 consumed) = 220cal
TOTAL CONSUMED: 1,780cal
HOURLY:
 The course: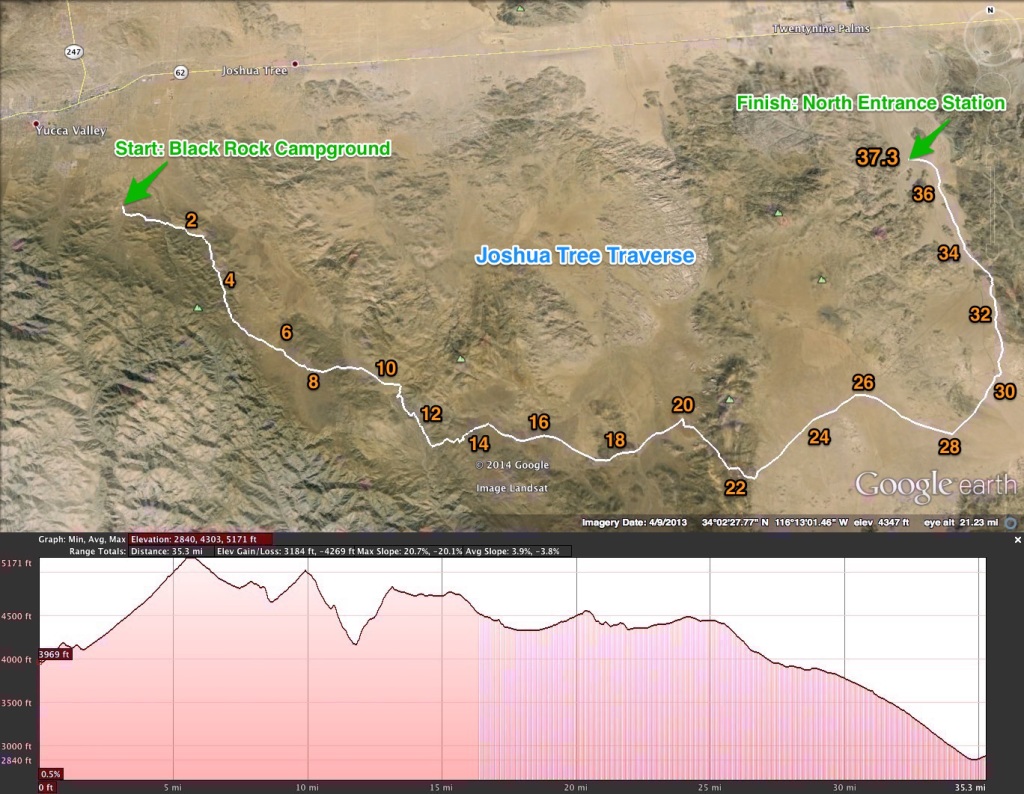 Pace table:
See Strava for actual splits: http://www.strava.com/activities/216759716