On Sat, Jan 24, 2015, I set out to climb Mt. Defiance as many times as possible within 24h. See the announcement for more details. So here's a quick report on how things went. But let's start with a movie clip with some impressions.
First of all, I'm glad I didn't look at the voting outcome before the run. You folks either wanted to kill me or were under the influence of some substance.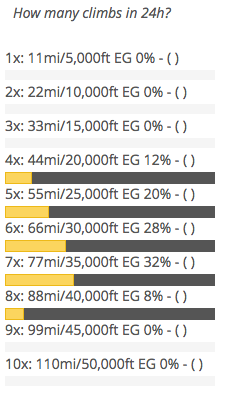 From a previous Defiance double, I knew I could not do a return trip faster than 3h, even on fresh legs. With the necessary time for self-care and the unavoidable slow down with multiple climbs, I thought the upper limit would be 7. In hindsight, I think even that was outrageously optimistic. It's certainly beyond my capabilities. But I appreciate your belief in me and I apologize if I had to disappoint you with a meager performance that did you match your expectations ;-).
So I managed to do 5 climbs in 19h35min. I'm not sure if this should be considered a success or a failure. Given the enormous struggle, I was happy I survived 5 climbs, but I was also a little disappointed that I did not manage to do more. Part of the problem was not having had a goal. I simply thought I'd do as many climbs as possible. In hindsight, that was a bad strategy. I may have been able to do 6 with a timeline and a firm goal.

Strava logged 49.1mi and 24,369ft of elevation gain. The GPS was on 60s interval, so it logs at least 10% short. The trail is more like 11mi. The elevation gain seems pretty accurate. Splits and more detailed data is listed further down.
I took the Mt. Defiance trail (413) each time and went back to the car after each climb to refuel.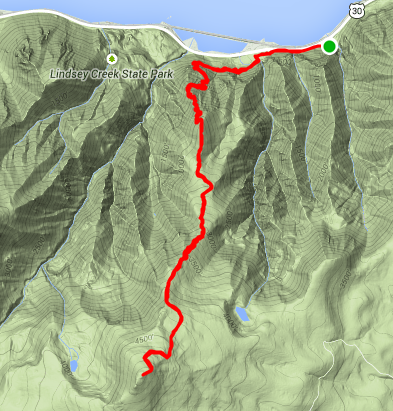 Previous attempts and records:

The legend says that PortlandHikers.org member mayhem held the triple Defiance record before he disappeared from the hiking scene. The only report I can find is available here. PortlandHikers.org member joerunner made a 2.5x attempt in 9h50min (27mi, 13,000ft EG): http://www.portlandhikers.org/forum/viewtopic.php?f=8&p=17845.
In the following, I will briefly reflect on each climb.
Climb 1
The first hour is a liar. I felt good and moved quickly, but had to constantly remind myself to slow down and save energy for the next 23 hours.  So I did. And it was tough.
After the Warren Lake turn-off, I encountered serious ice. Sadly, I did not pack my microspikes, so had to move very slowly and carefully, especially on the way down. The ice would almost melt out by the end of the night, but I still had to wear microspikes on the next 4 climbs. That added some extra weight.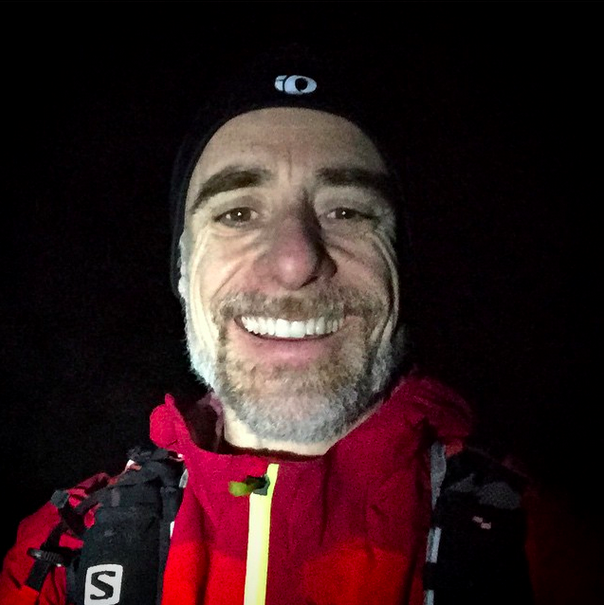 Climb 2
After getting over the initial (over-)excitement, I got to the usual point at which you cannot possibly imagine doing this for as many times you thought you wanted to. Once you get over this mental barrier and accept the challenge as such, things generally flow better until you start to physically fall apart. I was able to finish this climb only 6min slower than the first climb.
Climb 3
Jacob joined me for this climb. His company provided a huge moral boost and made me forget about what was still head of me. We enjoyed the nice evening light and got back to the car shortly after sunset.
I changed into new socks and shoes. The broken toe was swollen, but still locked attached and alive otherwise, so I didn't worry too much. I headed out again, feeling quite revitalized. I did not realize that I had just spent 31min taking care of myself. During races, my rule of thumb is to leave aid stations in 30s.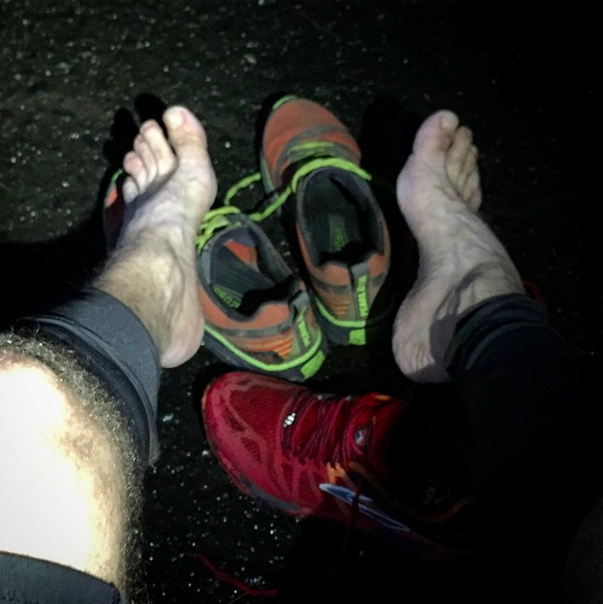 Climb 4
On the way down from climb #3, Jacob and I saw a hiker by the Warren Lake turn-off that did not seem well-equipped and ready for a night descend. There was no way he would have been able to hike down from there before the night fell. So I headed up and was expecting to find the man in trouble without a headlight. In order to be able to hear possible screams for help, I didn't listen to music.
After about 1.5 miles, I spotted the man. He was tiptoeing down the steep slope with a flashlight that was clearly out of batteries. I offered him my emergency headlamp, but he refused and said he relied on night vision. He must have different eyes then me. I wished him luck and never saw him again. Strangely, the car I thought was his was still at the trailhead when I drove home.
On the summit, I considered stashing something valuable so that I would have to come back up. But except the GoPro, I didn't have anything valuable with me. And since I wanted to use the GoPro, I gave up on that idea.
I was back from climb #4 in 3h50min and wasn't sure what to do. While I felt physically and mentally exhausted, I also knew I could do it again. The question was "why would I do that?" It's better not to ask that question in such a moment. Despite some hot broth and hot chocolate, I started to shiver and decided to sit for a while in the car to warm up before making a final decision.
I surprised myself by simply getting up and leaving again. Don't ask me why. Yet, once again, I had spent too much time (35min) refueling.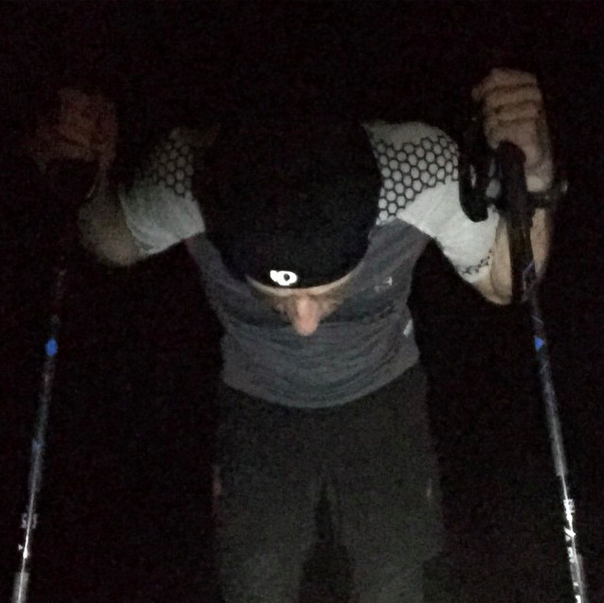 Climb 5
For the first time I climbed with music. I always save it as a treat and distraction for difficult times. This was clearly the moment. I moved slowly but relentlessly through the beautiful night. By then, I knew the way and remembered pretty much every step.
Shortly before I reached the car I checked the time and was shocked how late it was. The round-trip time was 4h13min. A quick guesstimate told me that I would not be able to complete climb #6 within 24h (see also split data below), even if I wanted to. Well, I didn't really want to anymore at that point, so it was a welcome insight.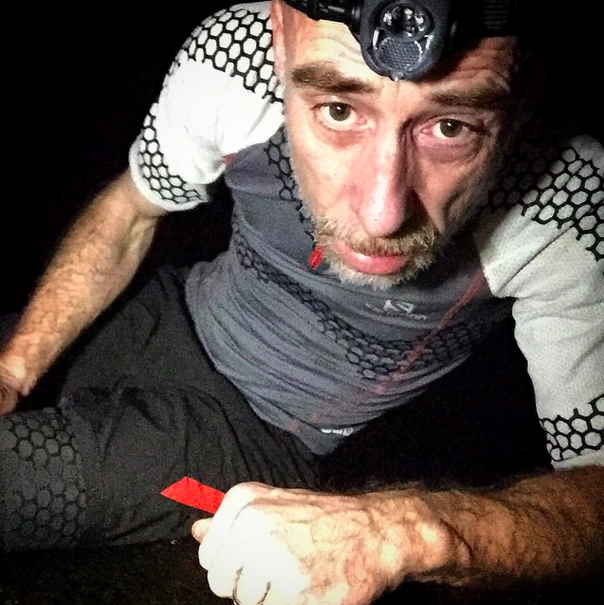 So, who's next? There are undoubtedly many much stronger and younger runners out there than me. 6 climbs is definitely possible, maybe even 7 for a beast in ultimate beast mode. Below are more details for those who may want to do their own attempt. The endeavor is logistically really easy because you have access to your car. So all you need is a healthy dose of craziness.
Thanks again for all your support and encouragement! I can't wait to see other attempts!
GPS and SPOT data:
Splits:
07:00am: Start
08:58am: Summit #1
10:12am: Back at car (total round-trip: 3h12min )
10:21am: Left for climb #2
12:20pm: Summit #2
01:39pm: Back at car (total round-trip: 3h18min)
01:48pm: Left for climb #3
04:01pm: Summit #3
05:25pm: Back at car (total round-trip: 3h37min)
05:56pm: Left for climb #4
08:11pm: Summit #4
09:46pm: Back at car (total round-trip: 3h50min)
10:21pm: Left for climb #5
12:48am: Summit #5
02:34am: Back at car (total round-trip: 4h13min)
Total elapsed time: 19:35
The bar plot below shows how much I slowed down over time. The green bars indicate the time I used to refuel and regroup at the trailhead.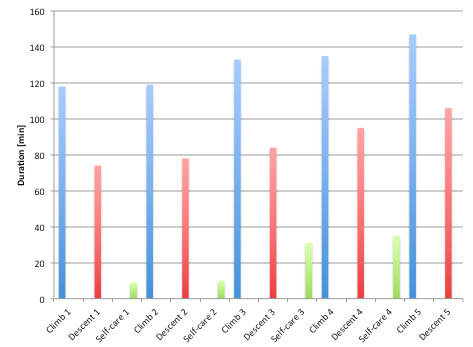 Based on this data, I'd expect that climb #6 would have taken me about 5h15min, including the self-care between #5 and #6. That would not have fit into the remaining 4h25min in the 24h window. So I made the right decision not to start another climb. With a timeline and a better plan, I could have optimized the refuel times and saved at least 30min.
Last but not least, I had to wear microspikes for the last mile or so. The trail was snow-free up to the Warren Lake turn-off. From there, it was mostly ice and/or hard-packed snow. Putting on and removing the microspikes did cost time. Also, you can't run very fast in them on ice. While the temperature and the weather were ideal, the trail conditions on the summit were definitely not.
Fuel strategy:
2 gels on the ascent (2x caffeine), 200cal
1 gel on the descent (1x caffeine), 100cal
2 fig bars, 150cal
1 liter of water with 400cal of Tailwind. Caffeinated Tailwind later at night.
In the car, I had the following "aid-station-like" items:

Bananas
Hot broth
Coke
Hot chocolate
Sliced oranges
Boiled and salted potatoes
Pringles and chocolate-covered chips (my new favorite!)
Brownies
According to Strava, I burned about 8,000 calories. Sadly, there are no water sources on the climb. One liter was the bare minimum for my needs. Twice I felt a little dehydrated on the way back. Yet, I wasn't willing to add more weight. For this kind of elevation gain, going superlight is key.
Shoes:
I changed shoes because they were wet and the N2 provided a bit more toe room for my swollen feet.
Brooks Cascadia 10 for the first 3 climbs
Pearl Izumi N2 for the last 2 climbs.
Both worked great for the current trail conditions.
Some lessons learned:
It's very hard to keep going if you don't have a final destination you need to get to. Having the "world" watch and participate makes you more accountable and helps you to keep going. Encouragement and support from friends can be a huge boost.
I should have had a solid timeline and a firm (but realistic) goal. Simply trying to do as many climbs as possible is not enough. It's better to have a timeline and having to adjust it than not having a timeline.
I should have changed socks earlier. Wet and wrinkled feet are no happy feet. Thankfully I was still able to avoid major damage.
Despite wearing gloves all the time, I got blisters on my thumbs because of the poles. I should have taped them.
Addressing issues early, even if they seem minor, pays off. What seems minor first may become major quickly. Rarely something that hurts gets better when you keep pushing your limits.