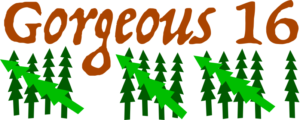 There are exactly 16 peaks over 3,000 feet with at least 300 feet prominence in the combined area covered by the Mark O. Hatfield Wilderness and the Columbia River National Scenic Area. Figure 1 shows the area boundaries.
Determining topographic peak prominence is a rather tricky business. I used Andrew Kirmse's topographic prominence data for this project. Andrew is a former Google Earth engineer who computed the prominence of every mountain in the world down to 100 feet. I've decided to use the 300 feet prominence rule (P300) because it is a common prominence cutoff, which is for example used to determine the "fourteeners" in the United States. According to Andrew's data, there are 78,664 peaks with at least 300 feet prominence in the USA (lower 48 + Hawaii). Check out his incredible P300 live map.
The 16 Peaks
The 16 peaks over 3,000ft with a prominence of at least 300ft (P300) in the Mark O. Hatfield Wilderness and the Columbia River National Scenic Area are:
| Peak | Latitude | Longitude | Elevation [ft] | Prominence [ft] | Name | Google Map |
| --- | --- | --- | --- | --- | --- | --- |
| 1 | 45.5328 | -122.0878 | 4059 | 996 | Sherrard Point | Link |
| 2 | 45.5469 | -121.9482 | 3859 | 506 | | Link |
| 3 | 45.5666 | -121.9073 | 4500 | 808 | Tanner Butte | Link |
| 4 | 45.5681 | -121.8748 | 3528 | 314 | | Link |
| 5 | 45.5719 | -121.802 | 4580 | 555 | | Link |
| 6 | 45.5861 | -121.8118 | 4673 | 377 | Chinidere | Link |
| 7 | 45.5877 | -122.0073 | 3872 | 335 | Nesmith Pt. | Link |
| 8 | 45.5897 | -121.9156 | 4180 | 317 | | Link |
| 9 | 45.6088 | -121.801 | 4555 | 426 | Tomlike Mt. | Link |
| 10 | 45.622 | -121.8427 | 4170 | 439 | | Link |
| 11 | 45.6246 | -121.7704 | 4737 | 775 | Green Pt. Mt. | Link |
| 12 | 45.6485 | -121.7226 | 4960 | 1525 | Mt. Defiance | Link |
| 13 | 45.6919 | -121.983 | 3421 | 418 | Table Mt. | Link |
| 14 | 45.714 | -121.967 | 3422 | 762 | Greenleaf Peak | Link |
| 15 | 45.7162 | -122.0028 | 3769 | 1599 | Birkenfeld Mt. | Link |
| 16 | 45.7535 | -121.7096 | 3673 | 1523 | Augspurger Mt. | Link |
Notes:
The summit of Mt. Defiance is technically outside of the Mark O. Hatfield Wilderness area, but it's close enough to be considered a part of it.
Ditto for the summit of Augspurger Mt., which is just a hair (perhaps 100ft) outside of the Columbia River Scenic area. But again, close enough to be considered.
Not all summits have names.
Not all summits can be reached by established trails.
The coordinates represent the topographic summits. They do not necessarily correspond to the summits people commonly go to.
Some of these summits may not easily be recognized as such.
Yes, there are more peaks over 3,000ft in that area, but they all are less prominent than 300ft. Thus, they don't count for this challenge.
Interactive Map
The Challenge
How many of these 16 gorgeously prominent peaks can you bag in a single push by using human-powered transportation only?
The more and the faster, the merrier. Who can do them all?
Similar challenges exist elsewhere, e.g., Nolan's 14, Bob Graham Round, Harvey Manning Peak Challenge. But now there's no need to travel far.
Guidelines
This is not a race. You do not need to register or qualify or anything. There are no fees. Anyone can do it anytime of the year.
You must start and finish at an established trailhead (e.g., one listed on OregonHikers). The start and finish trailhead do not have to be identical.
The clock starts when you leave the start trailhead and stops when you reach the finish trailhead.
To tag a peak, you must hit the above-listed coordinates rather precisely.
You pick your own route.
The challenge can be done individually or in teams. If completed in a team, all team members must do all parts of the route. Relays do not count.
The clock does not stop if the individual or team sleeps, rests, etc.
The challenge must be completed in a single push. Sleep, rest, etc. along the route are allowed. No leaving the route and returning.
Each and every part of the route must be covered with human muscle power only. That includes: climbing, hiking, running, swimming, kayaking, biking, skiing, and paragliding. No motorized form of transport is allowed on any part of your chosen route.
Crews and stashing of gear, food, and water are allowed. All stashes must be retrieved.
The challenge can be completed in a unsupported, self-supported, or supported way.
Announcing your intentions is encouraged, but not mandatory.
A challenge must be tracked and documented in order to be listed in the results.
All wilderness regulations as well as Federal, State, and Local laws must be strictly followed.
You must respect private land and property.
Strict leave-no-trace backcountry ethics must be followed.
GPS/GIS Data
Use this data at your own risk.
Results
All reported and documented attempts, completions, Only Known Times (OKT), and Fastest Known Times (FKT) that followed the above guidelines shall be listed here.
FAQs
How can I announce an attempt? Use your personal Facebook, Twitter, Instagram, or post in some running-related group/forum/page.
How can I submit my data? Contact Christof Teuscher.
Do I need to write up a trip report? No, it's not mandatory. Yet, reports allow to share knowledge and to inspire others, so they are encouraged.
Do I need to carry a satellite tracker? No, but you need to submit solid evidence that you completed the challenge. A GPS track (e.g., recorded with GaiaGPS) provides reasonable evidence. So do links to Strava or other activity websites.
Do I need to stay in the Hatfield or National Scenic areas to complete the challenge. No, you can leave these areas as you connect the peaks.
Will there be bushwhacking involved? That partly depends on your route, but be warned that not all of the peaks can be reached by established trails. Also, established trails may not necessarily offer the shortest/fastest route.
Why should I attempt this challenge? You should not. No half-sane person would advise you to do so.
How many miles does this challenge involve? How much elevation gain? How long will it take me? It all depends on the route you come up with.
Disclaimers
Records are not verified. The burden of proof is solely on the individual or team. Thus, the more documentation you can provide, the better. See http://fastestknowntime.proboards.com/thread/19/read-first for more info.
The information provided on this website does not identify possible dangers. When you are attempting this challenge, you assume responsibility for your own actions and safety.
Acknowledgment
It took me almost a year to wrap up this project. I was about to start writing my own code for analyzing GIS data to find the peaks I was looking for when Andrew published his data in May 2017 and I realized that he had essentially just done the work for me.