Tonight I will attempt an unsupported Joshua Tree traverse. The route is 37.3 mi long with about 3,200ft of elevation gain and 4,300ft of elevation loss. It starts at the Black Rock Campground, traverses the park, and ends at the North Entrance Station. So where's the challenge? We'll get to that.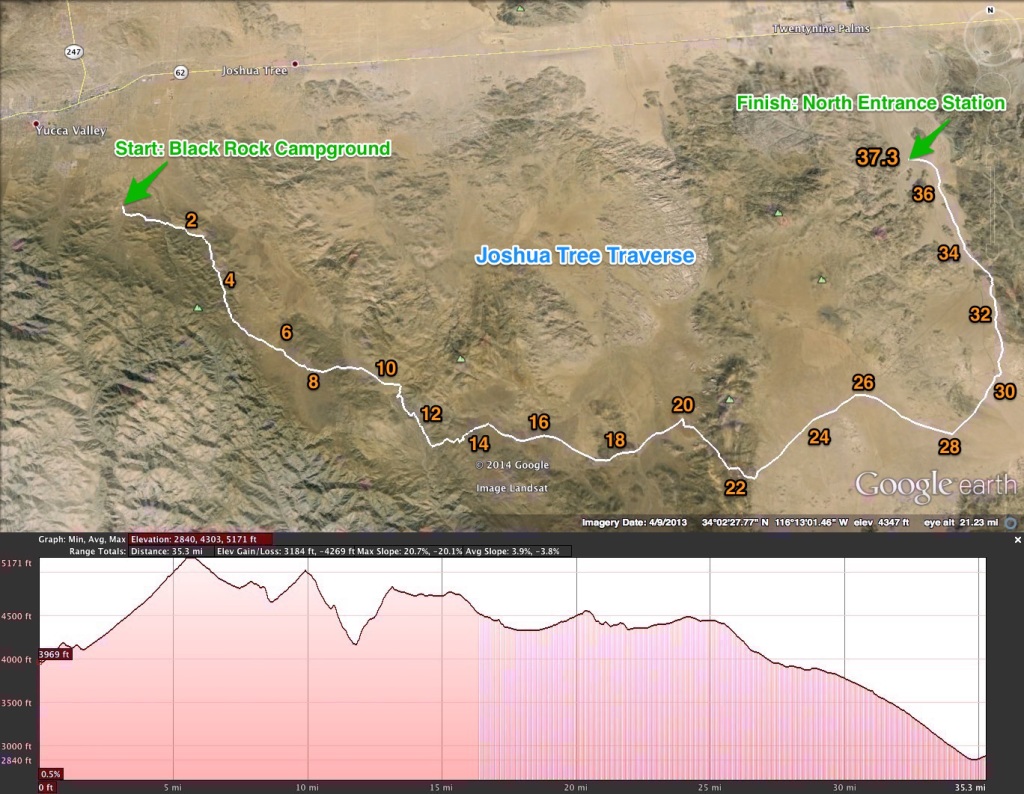 Time to leave now, get out of this room, go somewhere, anywhere, sharpen this feeling of happiness and freedom, stretch your limbs, fill your eyes, be awake, wider awake, vividly awake in every sense and every pore.  — Stefan Zweig
The current Only-Known Time (OKT)/Fastest-Known Time (FKT) is 7h49min. The group run was self-supported; they had at least one supply point at Juniper Flats (mile 20). Their report is available here http://www.enduranceguy.com/2012/06/03/jtree-traverse-running-across-joshua-tree-national-park. It was also mentioned here: http://running.competitor.com/2014/09/photos/8-epic-running-adventures-americas-national-parks_113218
My attempt will be completely unsupported.
Unsupported means you have no external support of any kind. Typically, this means that you must carry all your supplies right from the start, except any water that can be obtained along the way from natural sources. This approach has also been termed "alpine style". The longest trip I'm aware of using this style is Coup's 20-day thru-hike of the Colorado Trail. For most people, carrying enough food for more than a few days to one week will be prohibitive. Unsupported also means unaccompanied!
A major challenge on this traverse is not the distance per se but the lack of water. I will have to carry all my water supplies besides fuel and other essential gear. I guess this could be called "unsupported+." I will not rely on any resupply points (e.g., cached food and water) and will not have any external support (e.g., crew). Naturally, these constraints will considerably slow me down.
The plan is to start tonight, Fri, Nov 7, at 7pm (PST). You can follow my SPOT satellite beacon at: http://bit.ly/JTTraverse
The reduce my need for water, I will do the run entirely throughout the night, when the temperatures are expected to be in the low to mid 50ies. Sadly, I won't see much of the scenery. Running in the dark in addition to the navigation challenges will further slow me down. And yes, I have enough headlamp batteries! Hmm, do I? The good news is that the moon should be amazing.
During training runs in central Oregon, which offers similar terrain and climate, I carefully fine-tuned my fuel and water needs. I will carry 2.2 liters/74oz of water and 1,750 calories of fuel. That's just enough to keep me going for up to 8 hours in the worst case. After all, superhuman Kilian Jornet did the Denali ascend-descend record this year in 11h48min with 1 liter of water only, so I should be fine.
Let the pain, fear, and misery begin!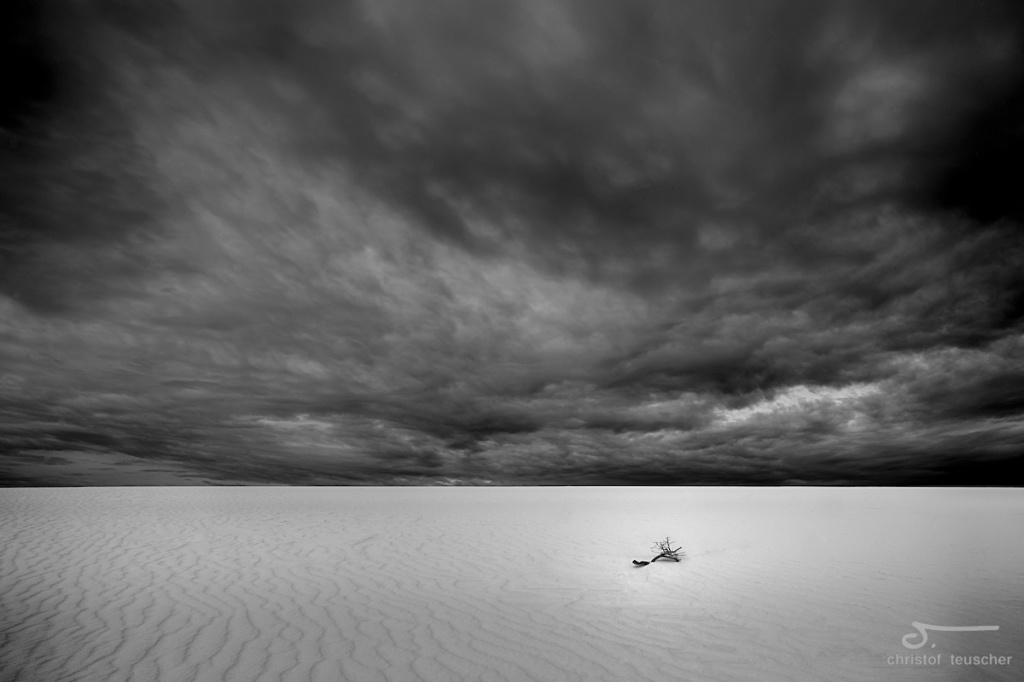 Lonely twig afraid of last hour
"I like going far. I've been trained to keep going, even when it's hard. When it hurts. When it sucks. When I don't want to. I look past it. Relentless forward progress to the finish. Call it what you want: stubbornness, endurance, determination, guts. Deep down, I don't know how to give up. And it's always worth it in the end." — Unknown